We awoke around 4 am for the rescheduled balloon ride. the bus driver came up and we drove to a point along the Nile where we caught little boats across. There were a bunch of people already loaded in the boats and heading across the Nile when we arrived. Across the Nile we entered another bus which took us to the balloon takeoff site.  It was still dark and the police were there as they often are at most places keeping an eye on things. I was chastised several times by my nervous guide who didn't want me using my digital SLR camera near the police. At this point several balloons were being inflated. It was incredible seeing and hearing the jettisoning flames shoot out of the canisters in the baskets and inflate the balloons. When it was time we jumped in our balloon and practiced the crash position should we have an uncomfortable landing.  I briefly questioned what I had gotten myself into. Finally we ascended into the atmosphere. the views were incredible. from 2500 ft we could see the Valley of the Kings and Hapshepsut Temple. we watched as the sun rose and illuminated the Nile and all the buildings and inhabitants of Luxor. I was surprised by the number of holes into the hillside dotted all over this area and outside of the main archaeological spectacles. There has to be a number of historical sites that have yet to be explored or discovered. It would be very cool to hike around this area through the desert. I;m sure you would find a bunch of ancient tunnels and tombs,  if the police didnt arrest you first! Our balloon ride eventually came to an end and we thankfully had a soft landing. we were picked up and made the return trip to our hotel where we packed up and went to the train station to depart for Aswan. The train was a little over 2 hours late and it took us 2 and a half hours to travel to Aswan. We searched for hotels and found a dumpy but cheap hotel for 14 usd per night.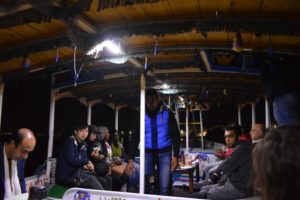 Early morning boat ride across Nile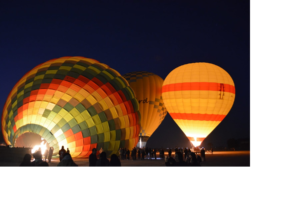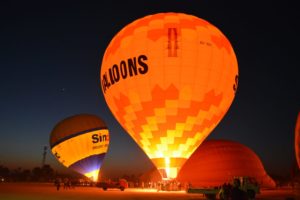 Inflating Balloons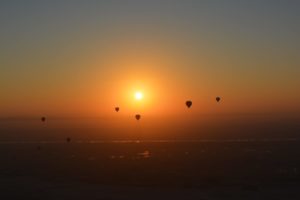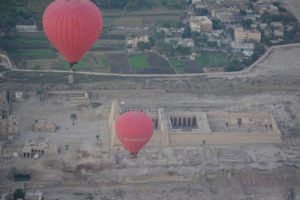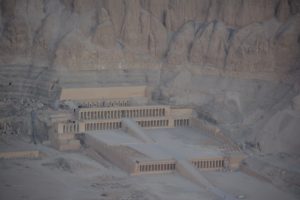 View of Hatshepsut from above.