Today was challenging. We rode 90 kilometers to to the town of Musanze. There was almost 2000 meters  of elevation gain. I had a great time. I'm relieved to be out of Ethiopia. I haven't had anyone throw rocks or threaten me in this country. People have been friendly. We had several groups of children run next to us on foot and wave. I find that it's difficult for me to let my guard down after my previous experiences in Ethiopia. However, the kids here seem well intentioned. For several kilometers we had a local follow along on a bicycle. He didn't speak any English, yet still talked to us in his language as if we could understand him. As we got close to Musanze,  I came across numerous bicycle taxis. One of which followed me up the hill. The man was surprised to hear that we rode all the way from Kigali. When I made it to the top I was thoroughly tired. Even though it was only a small climb it had been a long day.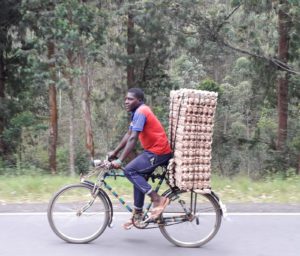 I'm impressed by what these locals can carry on their bikes. I've also seen men with up to 100 kilograms of potatoes dragging their feet to slow down their bikes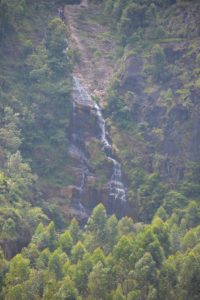 Waterfall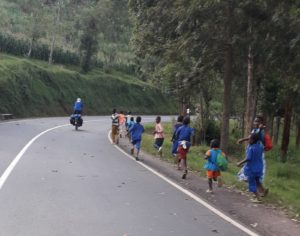 Arthur getting chased by a bunch of children.