This morning we didn't start bicycling until 12 noon.  It took us some time to find a bike shop to tune Arthur's bike, which wasn't shifting gears properly. We were directed by a local to a bike shop in the cellar of a large building. They were able to fix the issue and Arthur also found a wallet to replace the one he had lost. We stopped just outside of town at a grocery store to purchase water. We didn't want to filter the tap water in Kampala which has an odd taste. Arthur dropped his wallet in the store. Luckily someone turned it in. The first 20 kilometers were hellacious. Traffic was intense and I had to weave through cars and ride on the sidewalk when I could. The shoulder of the road was bustling with motorcyclists and minibuses trying to get around the traffic. The motorcyclists are the biggest hazard because they drive recklessly. Once we escaped the traffic the rest of the ride was more pleasant. We rode through some villages and through a portion of the Mabira Forest. This brief jungle section was awesome. Large vine covered trees towered next to the road and the jungle provided a reprieve from the day's heat. We were not allowed to ride on the main bridge into Jinja, which is for cars only. Instead we took a small bridge for bicycles and motorcyclists. On the bridge we stopped to take photos of the dam and city. A Ugandan military guard approached us and threatened to arrest us for taking photos. According to him there was a sign before the bridge that informs people that taking photos on the bridge is prohibited. Neither Arthur nor me saw such sign. He accused us of being terrorists and took our phones and passports. We walked with him across the bridge and he made a quick call. He informed us that he would drop all charges and let us go if we bribed him. At this point I was tired after cycling through the heat of the day and getting frustrated because I just wanted to find a hotel and relax. I thought it would be entertaining if I messed with him a bit. I played along like I was going to give him some money, and then offered him a couple bananas instead knowing that he wouldn't be interested. I feigned surprise that he didn't want any bananas and next offered him a piece of Jackfruit. Arthur did a great job of communicating that we weren't going to give the man any money and called him on his bluff. "Go ahead take us to your superior and arrest us we've done nothing wrong". The guy gave us back our passports and phones and we were on our way. Arthur negotiated to get us reasonably priced rooms at the Maria hotel.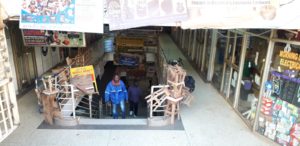 Bike Shop that repaired Arthur's cycles is down stairs. "God is Great Jac Cycles"
"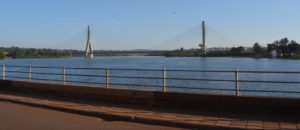 Contraband photo that the Uganda official forgot to have me erase on my camera.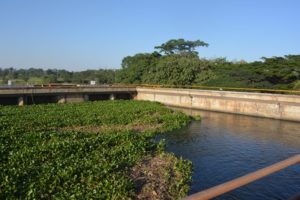 A Dam in Jinja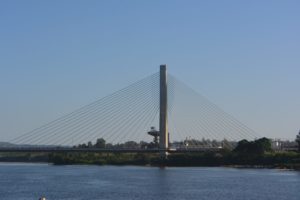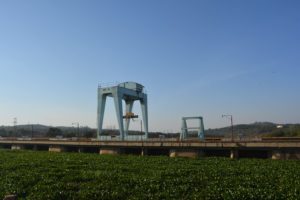 Another contraband photo of dam